If you don't already know, Bex @ Kindle Fever and I over here at My Shelf Confessions are hosting the Wonderfully Wicked Read-a-Thon ( #WWReadathon for the twitter party!)
Now to be honest, I haven't had a lot of time to read. I've been doing my best to keep up with twitter and go around and visit some blogs, and all the things a good lil host should do.
I was thinking at first that I might read Pretty Little Liars, since it's a fun light read that I've been looking forward to for awhile. However, I do have some rather massive books due for review next month that I'd like to the the jump on, especially since it seems like November is coming lightening fast!!
So I will be continuing to read the book I've already started and am 48 pgs into: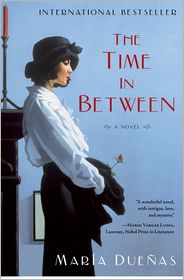 The Time in Between by Maria Duenas
Last night (or early this morning LOL) I got some really decent reading in and am now on page 117! I'm a fairly slow reader compared to most of you so that's some nice progress for me! I still have a lot more to read – it's 609 pages long.
I haven't participated in any challenges (I wouldn't think that's fair since I'm a host haha) but I have so say SO far my favorite challenge has been Michelle's @ Book Briefs, the Pictures to Create a Book Title – you all came up with some really great ones! I had to google many of my guesses because they were books I'd never heard of before.
I'm having an absolutely fabulous time and I hope everyone else is too! I've already made some fantastic friends! Thanks so much for joining us in the fun, you all ROCK!
If you want more information and a schedule of the challenges to come: WWReadathon INFO