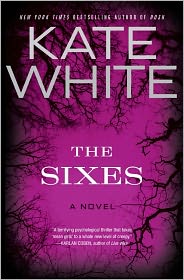 Phoebe Hall is a celebrity author biographer who seeks to escape from the public's scrutinizing eye after she's accused of plagiarizing her recent bestseller.  Her best friend Glenda, president of Lyle College, offers her a position teaching a writing class at her small and relatively remote campus. Phoebe accepts the position hoping for the chance at a fresh start, the time to heal her wounds, and bide her time until she can come up with her next book idea.

Shortly after Phoebe begins to settle in at Lyle, Lily Mack, a student goes missing; her body discovered a few days later in the river near the campus. When whispers of a secret society made up of girls calling themselves The Sixes begin, Phoebe is asked by Glenda to use her skills as a celebrity investigative journalist and interviewer to see if she can uncover anything useful.

As Phoebe digs up info in her research, she soon becomes the target herself and is even more eager t figure out if The Sixes are behind Lily's death – or even worse, there's a serial killer among the quiet campus. One thing is for sure – Phoebe can't escape her past but she's going to try damn hard to prevent her experiences from becoming another girl's future.
*Note, the blockquote is merely used for effect to separate story info from my opinion, but all content is mine, not quoted from another source.
If you know my blog, you know I'm a real sucker for books that take place on college campuses, boarding schools, or really any school/academic setting. It's a personal book fetish… shhh don't tell!
I definitely enjoyed myself reading The Sixes. White weaved in enough suspense and timed things well, so you constantly wanted to turn the pages and find out if your suspicions were correct. Discovering things along with Phoebe was a fun way to learn clues and investigate the mystery. I definitely was invested in the story, which is always a great thing!
I thought there were a great number of suspects, and I was actually really shocked when I learned who was really responsible for all the mayhem. So I have mostly good things to say about The Sixes…
However, there is a BUT – I can't help but feel mixed emotions about the end. I think the author threw in an extra plot twist without providing enough previous story line to create a vested interest. So that particular mystery ended as soon as it began. I was left feeling sort of befuddled, since the book would've been just fine without that particular plot line, especially since it wasn't really alluded to that heavily throughout the book. But that's my opinion; perhaps I just missed all the clues and couldn't see them when that mystery was solved? Its only for this reason, the ending being a bit off, that I felt it was a 3.5 star book for me.  Definitely worth reading though!
So go read it and come back and tell me what you thought – or have you read it already? Either way, drop me a line! I look forward to hearing from you.