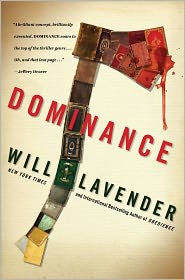 In 1994, Jasper College was host to a controversial class, Lit 424: Unraveling a Literary Mystery. Nine undergrad honor students are invited to attend the class taught by the infamous Dr. Richard Aldiss who's been convicted and currently incarcerated for the murder of two students at Dumant University. The class, held in the basement of the school to prevent prying eyes and distractions from protesters, is where they first meet their professor – via satellite – on a TV screen stationed in the front of the room.
Fifteen years later, Dr. Alex Shipley, one of the night students goes to meet Dr. Aldiss at his home. She's come to speak with him about a murder – the victim being another student of the night class, Michael.  He was found in a scene arranged much like the Dumant University murders, surrounded by books and open books covering their eyes.
All those years ago Alex unraveled the literary mystery that ultimately set her professor free, now given a new mystery that begs to be solved, will she be successful before more of her classmates are murdered, or will she prove that the answers she uncovered the first time around were false?
Let's start with a shelf confession or two: I LOVE books about books and books that take place in a school/academic setting. I can't explain why, but it's like a little niche of goodness in the book world – especially books about books that I can't get enough of.
I can say with total assurance that Dominance is MY FAVORITE book about books of ALL TIME. I really don't see any other book being able to take it off that mantel any time soon. From the very first page I was totally glued to the page, already interested, wondering what was coming next. I knew I was holding something special, and I immediately told my book blogger friends who had access to the book, BEGGING them to read it with me, to set aside whatever they were reading and just READ THIS BOOK.  I'm lucky I have nice friends, one of my friends was already reading the book, and another friend started reading the book based on my insistence and another friend made me wait in agony as she finished her current book.
I've really tried hard to not GUSH all over the blog with this. I've put this review off for awhile, trying to come about it in a completely professional way, all OMG, OMG, OMG's aside. But I just can't.  This book was SO completely AMAZINGTASTIC, it had EVERYTHING I have EVER wanted in a book and the best part – it DIDN'T disappoint!
The timing and pace of the book is one reason it's so great. We go from past to present, from the time when the night class was taking place, to the present when there is a murderer at large and all the classmates are suspects. Alex Shipley plays a key role in both areas, taking the role of "investigator" for both sets of mysteries we unravel simultaneously. What I loved, is that normally when a book takes you from past to present you end up liking one time over the other, preferring to read more and then the time changes and you feel discontent. In this case, yes you want to read more, but you're also as desperate and hungry for answers in both sets of time equally, so you don't feel that sense of loss of place.
One of my favorite characters is Dr. Richard Aldiss. I couldn't help but picture him very Hannibal Lectorish. He has the same sort of creepiness and deep intelligence. He knows how to manipulate a situation and get what he wants – while knowing exactly what you want, and deciding whether or not he will give it to you.
Let's talk about the books within the book. There are two books that play a central role in the mystery The Coil and The Golden Silence both by Paul Fallows, a mysterious author whose identity is a mystery in and of itself.  There are passages from the books and you learn so much about them that you can't help but want to read them, to feel their pages in your hands yourself, to see if you can read the clues as well.
I really can't say enough about this one, if you love books about books, mysterious authors, or want a mystery/thriller that will take you on the ride of your life not only with a worthy mystery but also with intelligence and oozing with booky goodness. Yes, I'm making up new words for this review. Booky goodness, amazingtastic, even bookgasmic! I have not been this excited WHILE reading, and AFTER reading a book in a awhile!
So I will close with this, if you only read one book this summer, or this year, or for the next FIVE years – choose Dominance and you will NOT be disappointed.
I've also got a special surprise – an interview with the author, Will Lavender!
Dominance is Available from Amazon / B&N / Simon & Schuster
*Galley provided from Simon & Schuster via Galley Grab. This review and all opinions expressed therein are my own.