My rating: 5 of 5 stars AMAZINGTASTIC!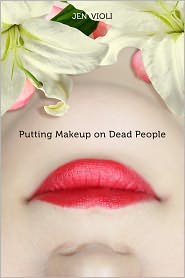 Putting Makeup on Dead People is Donna Parisi's personal account of her life. We enter Donna's world as she's finishing the last few weeks of high school, graduates and figures out life after school. We learn her dad died about five years ago, and she lives with the sadness and the memories, struggling to move on. As crunch time comes at the end of the year, Donna has to choose whether or not to go to University of Dayton (where she's already been accepted) or go a completely different route – mortuary school, an idea that came to her after she attended a classmate's funeral. She feels that mortuary school is a calling, something that feels right, and yet her mom is adamant that she go to the University. Tensions continue to mount between Donna and her mom as Donna puts her foot down and starts mortuary school and her mom reveals how she's moving on with her life too.
Putting Makeup on Dead People is a tale of transformation in the truest sense of the word. Nothing changes you more than the death of a loved one, especially in your immediate family. Donna's voice is refreshing and authentic, she's smart and funny and sometimes her insights are pretty deep. You follow Donna as she figures out her own life, where she wants to go, who she wants to be, and most of all how she learns to live with her loss. Putting Makeup on Dead People is the rare book that will have you laughing or put a smile on your face even as you're shedding tears.
I can't honestly recommend Putting Makeup on Dead People enough! I rarely laugh out loud when I read and this book had me laughing throughout. It was also really cathartic to be able to relate to Donna's feelings so well, and to see them expressed on paper. You can't help but root for Donna and be completely caught up in her story. Even though the book deals with grieving, it isn't depressing, it's infused with hope. One of my favorite things was the funeral profiles that include the details of a funeral and then at the end a funny comment that someone said while trying to be comforting. It's those little details that make the book completely authentic because everyone has had those moments at funerals. The things people say while they are trying to be helpful or comforting are just funny sometimes!
I recommend Putting Makeup on Dead People for YA lovers, readers who enjoy a book written in journal style, and/or people looking for a book that deals with transformation!
Putting Makeup on Dead People Can be found at:
*Received galley copy from Disney-Hyperion via NetGalley. My review is entirely my own opinion and thoughts.